Local History
We can also research local people and places.  For example, the people who lived in a house, street or whole village.
For example, see the page about Brandon on a local history website we researched and produced.  This was mainly based on our own research, but we're happy to work with local history groups to arrange and present their work in an accessible form.
We've also rewritten the website for the Sawley & District Historical Society.

Military History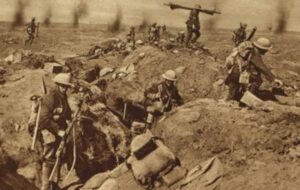 We've researched the names on war memorials for several villages.  For example, see this webpage. 
We can usually find out where the men lived, if they were related and their civilian and military history.  We can often work out in which battle they died, and sometimes how they died.  
For example, we researched the names on the Caythorpe war memorial for a local church group, who used the information to produce a book.  And now, every year when the vicar reads out the names on the memorial on Remembrance Sunday, local people know who he is talking about.
The History of Your House
If you have ever wondered who used to live in your house, or street we may be able to work it out.  We can find names, occupations etc and look for any interesting stories, photographs or documents.  It is not practicable to quote a price for this sort of work, so we suggest that you order an initial 2 hours' work, which should be enough for us find some information and to get a good idea of whether and where any more information could be found.