Francis Joseph Bell (1862-1925) was born in Blackheath, London.  In 1881 he was living in Greenwich and working as a telegraph electrician.  Ten years later he married Harriet Emma Norris in Greenwich.  They had 2 (surviving) children:
Sidney, born Brockley 1887. He married Dorie Richardson of Boscombe Park in Mar 1914 and served as an air mechanic during the war
Andrew, born Ealing 1890. He moved to Canada.  During WW1 he served as a Cpl in Canadian army
When Harriet died in 1891, they were living in Battersea, and Francis had become the manager of a steam laundry.  Two years later he married again to Annie Sarah Tavener (1862-).  They had 4 more children:
George, born 1894 Battersea. He became an estate agent's clerk. During WW1 he was wounded and captured by Germans in 1918
Marjory, born Ramsgate 1896
Frances, born West Kensington 1897. She was living at Seacote with her widowed mother in 1939.  During WW2 she was an ARP (Air Raid Precaution) car driver
Laurie, born 1898 – see below
Around 1900 the family moved to 'Seacote' a large house on Warren Edge Road, Southbourne and Francis was the manager/director of the New Era Laundry in Pokesdown.  He also became a town councillor.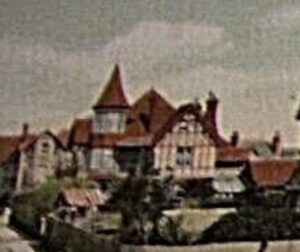 Laurie Bell was born in Crouch End, London but grew up in Southbourne.  At Bournemouth School he was a keen member of the Cadet Corps.  On his 18th birthday in Aug 1916, he joined the Army as a motor transport driver.  In Jan 1918 he transferred to the Royal Naval Air Service as a cadet pilot.  After more basic military training, he'd have done 2 months pilot ground-school, then another 3 months basic flying training on the Avro 504. On 1 April the RNAS became part of the newly created Royal Air Force. 
After the next stage of training on a faster aircraft he was commissioned as a 2nd Lieutenant. Before he could wear his wings, he had to train in an operational role (fighter, bomber etc). It seems he was offered the chance to become a basic flying instructor but chose to carry on training for the front line.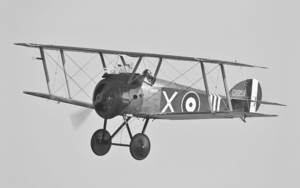 On Mon 29th July 1918 he was flying a Sopwith Camel from 54 Training Depot School at RAF Fairlop, near Ilford in Essex, when he collided with an Avro 504 from the same unit. The crew of the 504 survived but Laurie was killed in the collision or the subsequent crash (he probably wouldn't have had a parachute). 
He was buried with full military honours at Boscombe Cemetery.